Graphic House, Inc. Unveils Vibrant New Signage to Welcome Visitors and Residents to the Wausau Area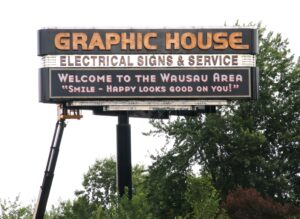 Wausau, WI – Graphic House, Inc., a renowned name in creative design and signage solutions, is excited to announce the completion of a new project aimed at bringing smiles and positivity to the Wausau community. This new, eye-catching signage, located off Highway 29, is designed to make both visitors and residents smile as they enter the greater Wausau Area.
The teaser campaign began earlier this month, arousing curiosity among the locals and creating anticipation for the grand unveiling. Now, the wait is over, and the cheerful message is ready to welcome all with open arms.
Kim Berens, the Director of Marketing, shared that the creation of this captivating slogan was a collaborative effort by the entire company. With the utmost regard for their employees' perspectives and recognizing their deep connection to the community, Graphic House, Inc. invited them to vote on various messaging options. The selected slogan, "Smile, happy looks good on you!" emerged as the clear favorite. At its core, the message embodies the belief that a simple smile can brighten anyone's day, and the company hopes to radiate positivity and uplift the spirits of everyone who encounters it.